Steel prices may face extreme fluctuations and buyers should keep information up to date and keep track of market trends.
After a sudden rise in early March, prices of HRC, CRC and HDG steel finally lost momentum. Economic slowdown indicators continue to cause difficulties, making many people mentally prepared for the worst market demand since 2008.
Besides, experts continue to make mixed predictions about the upcoming steel price and demand. Some sources expect demand to rise by 2023, while others believe the upcoming economic downturn will have a strong cost impact.
Either way, steel buyers and suppliers need to be prepared to survive the recession, no matter what it may bring. This means that they must seek cost-saving opportunities whenever possible.
Can steel prices face large fluctuations?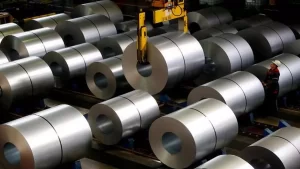 HRC price fluctuations continue to slow in the short term, with most transactions passing by. This represents a mid- to long-term pattern of price increases, if the next wave of price increases shows breakthrough. On the other hand, a new downward trend could start if HRC steel prices reverse.
Many factors affect HRC prices. Vendors are eager to keep prices up after hitting bottom in early December last year. Now, prices are losing momentum again after a sudden rise on March 1. According to Metal Miner, the manufacturers' ability to continue raising steel prices is still uncertain.
Recommendations for steel buyers
One thing that steel purchasing institutions can do to boost steel prices in times of recession is to increase immediate delivery. As the price of metals traded goes by, it is recommended to use "on-the-spot transactions" as much as possible instead of maturity purchases. Some people will realize this strategy as "buying when necessary".
Another thing that steel buyers can do is assess their inventory levels. Back when everything was scarce, purchasing institutions increased their inventory levels across the board. Now, as demand decreases and supplies of raw materials become more abundant, they can have "just the right size" levels of inventory strategically for purchased.
Steel buyers can expect variable steel prices throughout 2023. This is due to many factors, including changes in supply and demand, production costs, global economy and the U.S. economy. Rising prices, while falling demand, can lead to lower prices. Regardless of what happens, steel buyers need to be updated and monitored for market trends to make wise buying decisions.
Source: Cafef