Fuji Vietnam Industry Joint Stock Company is one of the most professional and reputable manufacturers in the field of steel structure design, manufacture and construction. Especially specialized in the field of pre-engineered steel structures for factory and industrial buildings.

At Fuji Vietnam, all materials, semi-finished products to finished products must go through a Strict quality control and inspection process. Along with the working motto of all employees "Enthusiastic – Hardworking – Professional – Fun – Patient – Listening – Agile – Prestige – Polite" to ensure the core criteria in the development process of the Company "High Quality & Golden Service"
Total No. of Employees: ~ 200 persons
Bachelor of Economics: 05

Construction Engineer: 16
General organization chart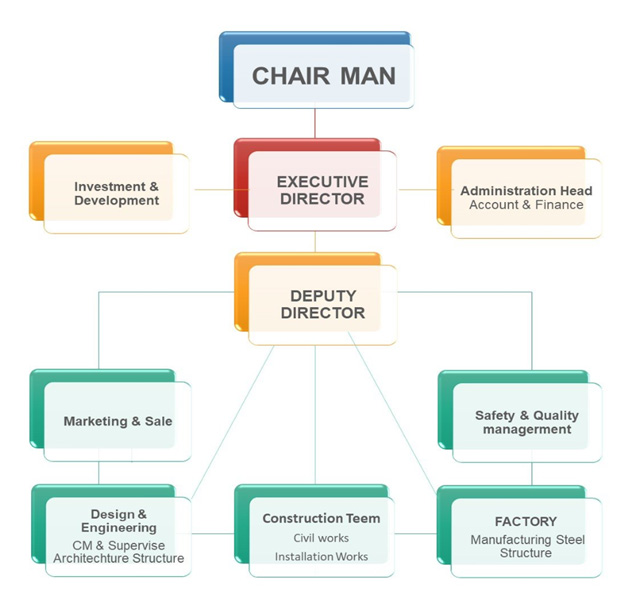 As an enterprise operating in the field of construction, steel structure production is a heavy industry with many potential risks due to safety. Fuji Vietnam always focuses and sets the criterion "SAFETY FIRST".
Each stage, each item, each project is created with a standard SAFETY PLAN and requires employees to absolutely comply.
100% of Employees is educated of OHSE before deployed any job

100% safety officer has valid certification authorized by governmental agency, frequently monitor

Enough documentation to record issues in construction site, report frequently to consultant, make corrective action and regularly improvement.

100 % Worker& engineer have sufficient safety equipment. Extra 10% of equipment package for emergency case;

100% Worker& engineer have sufficient education of each specific task before deploy;

Record all personal attendance and report.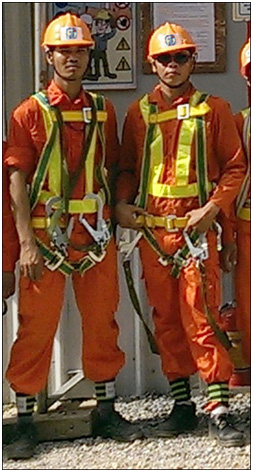 Fuji Vietnam Board of Directors understands: A Green-Clean-Beautiful environment will create Good Quality Products and Good Quality of Life.
Fuji Vietnam is committed to limiting all impacts of production and business activities on the surrounding environment and fully complies with the legal provisions on environmental protection as well as Vietnam's environmental standards. At the same time, strive for environmental improvement activities in the company and for the whole community, including the following activities:
Efficient use of resources such as electricity, paper, gas to minimize the impact on the environment

Orientation to use environmentally friendly materials

Apply best practices in waste management and treatment, employee health-related issues including emergency situations

Educate and train people to be aware of environmental protection

Set environmental targets for environmentally friendly sustainable development

Disseminate the environmental policy to everyone working for the company including contractors and the community.