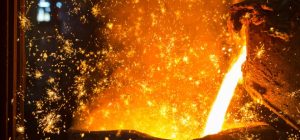 Shower of sparks as molten metal is poured in steel foundry – Photo: Shutterstock
Steel price is forecast to retreat in 2022 as the rally is over globally, but US prices are likely to see some upside with the signing of President Joe Biden's Infrastructure Bill into law in November.
Fitch Solutions on 23 November its note revised up steel prices for 2021 to $950 per tonne, from a previous forecast of $920 per tonne, but the price is forecast to drop to $750 per tonne in 2022.
"Our forecast for prices to start cooling in the second half of the year has played out, with European and Asian prices declining throughout the second half of 2021, while US steel prices have started to stabilise starting October from the exceptional rally since the fourth quarter 2020," the firm said.
Supply to rebound
On the supply side, Chinese steel production in 2022 is expected to rebound slightly following significant year-on-year declines from July-September as a result of the Chinese energy crisis that dented industrial production in order to reduce pressure on the power grid.
Fitch revised downwards Chinese steel production growth forecasts from 9% year-on-year to 2.5% in 2021 and from 7% year-on-year to 5% year-on-year in 2022.
"As government intervention in the coal sector has worked to ease the energy crisis in China, we expect steel production to start rebounding from the steep declines in the third quarter 2021," the firm said.
Outside China, the US has significantly lagged behind global peers in restarting capacity following Covid-19 disruptions and production cuts. Going forward, Fitch expects more US supply to come back online and imports to improve over the coming months, gradually stabilising US steel prices in 2022.
China's steel demand
Fitch expects China's steel demand growth from the construction industry to have largely peaked in the first half of 2021. While ongoing projects and new public infrastructure projects will continue to buoy steel demand during 2022-2025, the firm did not expect the strong demand impact that had stemmed from an acceleration of government stimulus since April 2020 to support the country's post-Covid recovery to return in 2022 onwards.
"With major construction projects reaching completion and the pipeline of new projects thinning with the Chinese Government focusing on tightening credit lines, Chinese steel demand from the construction sector is likely to weaken going forward," Fitch said.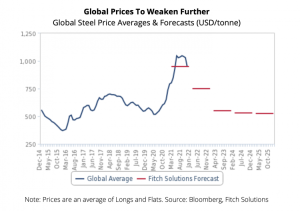 Chart of global steel price averages and forecasts – Credit: Fitch Solution
In addition, there is rising risks to the Chinese property market following financial difficulties faced by Evergrande. If Evergrande's difficulties spark contagion for a large number of Chinese property developers that may not be directly exposed, steel demand would be further hampered.
Upbeat US steel demand
In contrast to China, Fitch is more upbeat for its outlook for steel demand in the US.
"President Biden's infrastructure plan will involve traditional as well as new infrastructure with spending spanning over eight years. Thus supporting steel demand along with other green metals like copper for a time to come," Fitch said.
Alongside traditional infrastructure like bridges, ports, roads and pipelines, Biden's plan addresses climate change through a wide range of projects involving electrification, advanced manufacturing, clean technology, electric vehicles charging stations, broadband, and renewable energy.
Europe demand
European steel demand is also expected to rebound following the collapse seen in 2020 due to Covid-19.
Fitch expects consumers, especially large automakers and electronic producers to prefer European steel compared with Chinese steel going forward to lower their emission. This is because European steel is mainly low-carbon steel produced at electric arc furnaces using scrap metal, while Chinese steel is mainly produced at blast furnaces requiring coking coal and iron ore.
"We also expect more localisation of supply chains in the coming years leading to Western downstream industries consuming greater amounts of European steel compared to Chinese exports. This will be bolstered by rising prices of international steel that will make exports less attractive," it added.
Long-term price outlook
Fitch maintains its view for global steel prices to ease from current levels to average $750/tonne in 2022 and $535/tonne over 2023-2025.
"Ultimately, we expect that a combination of slowing Chinese steel consumption growth and rising global steel market protectionism prompting greater production in affected countries to loosen the market and drag prices lower in the medium term," it said.
Chinese domestic steel demand is expected to slow overall in the coming decade compared to the last as the country shifts its economy away from heavy industry and towards the service sector resume. This will drag down domestic steel prices in China and the global average.